With Adepticon right around the corner what are you excited for?
I have heard opinions across the spectrum with people that hate displays and feel like they are a complete waste of time and there are some that just love them. I am defiantly someone that loves to make a kick ass display and there is something that happens to a group of guys that work on a project together. Its something that is similar in sports and team video games. This group work creates a team bond, which is a dangerous thing to get in front of. Thats the bond I want my team to have come the big day of the team event at Adepticon. It is by far one of the most prestigious events to win in the states in my opinion and I have said many times that it is something I plan to accomplish before I die.
No one will ever forget the greatest display ever to be brought to Adepticon in 2009. The giant Ork ship was by far one of the coolest things I have ever seen and it is definitely a catalyst for making me want to try to create extravagant displays. But I have come to realize size doesn't matter, it is more about the intricate detail, realism, and creative drivers within the display that make it memorable.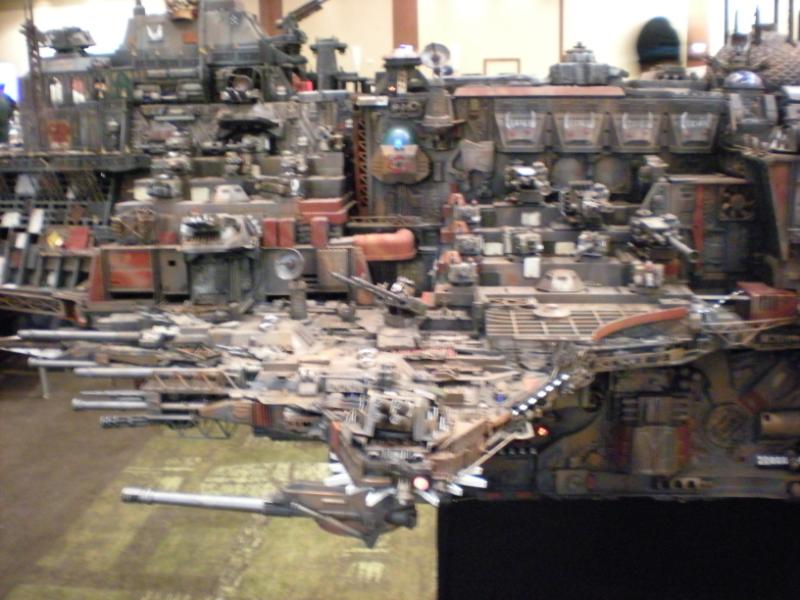 Take this Necron board easy cut out and small room but tons of detail and a great light source that plays into the scene very well. There is nothing overly complex about the board but it looks great and it will always be something I think about when I see other Necron or even subterranean boards.
What is the purpose behind a display other then to add a little flavor, foundation, and character to the army you play with on the table. I think I will always love building them and getting better at making them seem more genuine and clean. Another great feeling surprisingly is destroying them in the back alley of the Westin Hotel since no one can take it home.
This year at Adepticon I expect to see some great stuff as usually and I am glad to see that the Adepticon council is taking it upon themselves to ensure there is more attention brought to these groups that really go the extra mile with team tournament love. Because of this Armies on Parade addition and the extended schedule I think we will finally have the time to appreciate some of the hard work these teams put into their display. Whom ever walks away with the "Best Display" award should truly take it as a major accomplishment. I know that not everyone can bring a display board across country so I am not going to hold it against any team that comes with the basics but I am truly pumped up to see what people bring.